Nanotechnology is a high-tech process that makes it possible to apply naturally occurring qualities to materials. Thanks to this innovation we can obtain water-repellent fabrics.
It all began when the so-called lotus effect was discovered.
What is the lotus effect?
We have probably all seen the lotus flower at least in photographs: large petals, white to pink in colour, resting on large, flat, round green leaves; and on these leaves, large drops of water.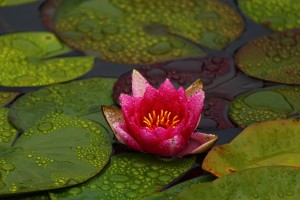 (Photo by Marina Logvin on Unsplash)
This flower grows in wet and muddy environments, real swamps, and you would expect to see leaves just as dirty and wet: however, the leaves of the lotus flower always remain dry and clean.
This is due to the special structure of the leaf surface. This is due to the special structure of the leaf surface. Apparently smooth, this surface actually has microscopic ripples that are invisible to the naked eye.
On surfaces with a normal structure, the water droplets adhere and then slide, allowing dirt to penetrate; on these tiny ripples, the water droplets do not slide, but roll, taking the dirt particles with them.
Nanotechnology fabrics: innovation and practicality
Once this extraordinary natural property has been discovered, nanotechnology enters the field. It allows this lotus effect to be imitated, resulting in water- and stain-repellent fabrics.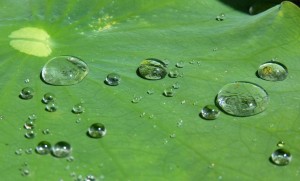 (Photo by Julia Schwab on Pixabay)
Nanotechnology is not a superficial coating, but acts deep down at the molecular level, so the fabric retains all its natural characteristics: it is non-toxic, breathable, antistatic, resistant to both wet and dry cleaning, allows faster drying and is easy to clean with neutral products, thus avoiding the use of toxic and polluting chemical solvents.
The treatment is also permanent and maintains the quality of the colours and fabrics over time.
How to remove stains from a nanotechnology fabric
This technological innovation reveals itself in all its practicality when a liquid is spilled on a fabric.
Depending on the situation, it will be necessary to act in two ways:
If the liquid has remained on the surface: to remove the stains, dab lightly with a dry cloth or kitchen paper.
If dirt has penetrated due to strong pressure: lightly rub the stained area with a damp, non-abrasive sponge and rinse with a clean sponge.
For washing, use a small amount of neutral detergent and rinse thoroughly. When completely dry, iron at a medium temperature. In any case, just follow the instructions on the fabric label carefully.
Nanotechnology fabrics for sofas and armchairs
Sofas, armchairs and all upholstered furniture are obviously "natural targets" for staining liquids: wine, coffee, soft drinks, to name but a few. And so upholstery fabrics are the natural field of application for nanotechnologies that exploit the natural properties of the lotus effect.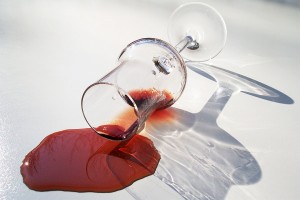 (Photo by Security on Pixabay)
The nanotechnological stain-resistant finish can be applied to any fabric, which will retain its natural characteristics and at the same time acquire water-repellent properties.
To find out more and learn more about all the properties of stain-resistant fabrics, please contact us.